Pot pour bougie en verre nacré avec couvercle - Australie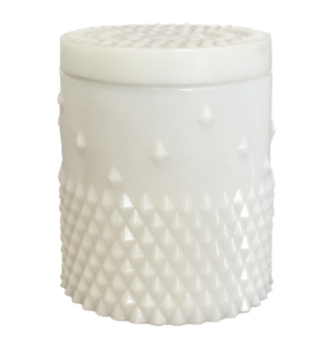 Pot pour bougie en verre nacré avec couvercle - Australie
---
Inspired by Valentino and designed in Australia by Luxury Candle Supplies, our latest new range set to 'rock' 2017! With iconic studs and a patterned lid, these new vessels can be seen as a stylish, unique alternative to the popular GEO Cut Glass range.
External Vessel Dimensions (with lid): 90mmØ x 110mmH
External Vessel Dimensions (no lid): 90mmØ x 95mmH
Internal Vessel Dimensions: 90mmØ x 81mmH (including interior ridges 35mmH)
Vessel Capacity: 320ml
Vessel Weight: 660g
Suitable Lid: Our Stud Range comes with a matching, patterned glass lid.
Suitable Packaging: Smart Box Large, Flatpack Large
Suggested Wick Size*: LCS80
*Please note, wick sizes are suggestions only. For optimum results, we recommend users conduct their own wick tests with different blends of wax and oils that they intend to use.

---